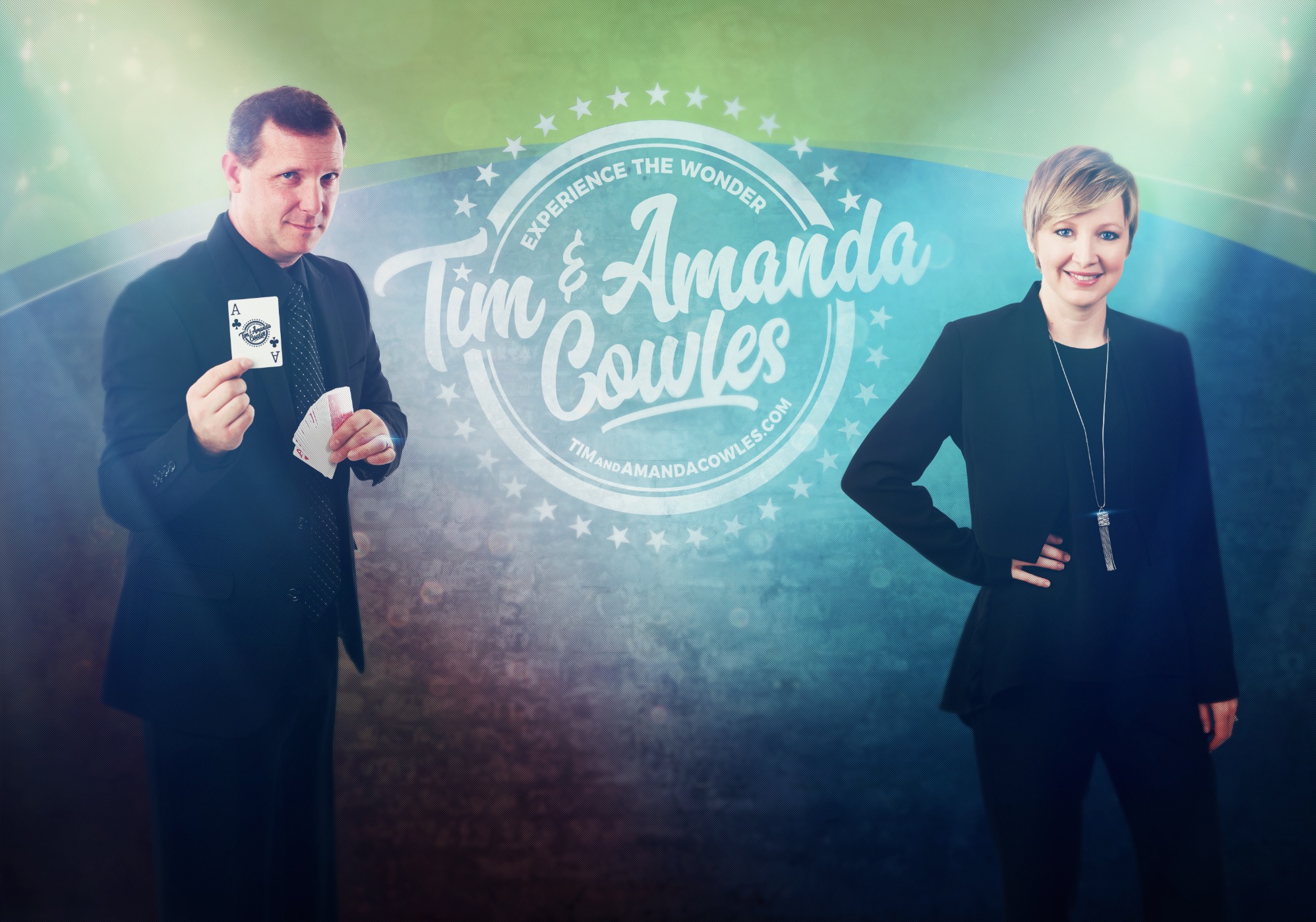 Tim & Amanda Cowles are illusionists, ventriloquists, comedians, communicators, and gospel sharers. They are consistently praised for their ability to hold everyone's attention and for providing programs that move at a quick pace. They make audiences laugh without ever sacrificing the message!
How they work:
Each year Tim & Amanda share their programs in a variety of venues: conferences, music festivals, single and multi-night family events, Upwards, VBS...you name it. If your event is large or if it's more intimate, Tim & Amanda want to work with you!
All they need is an outlet and an audience. They even run their own sound.
Tim & Amanda are based in Knoxville, TN, but they travel worldwide. They often perform multiple locations in a single day, so let us know if Tim & Amanda are coming to your area. We'd love to get you on the calendar!
Want to know more?
Tim & Amanda Cowles love sharing with families. Plain and simple. Their goal is to present clear, concise messages that engage their audience start to finish.
They have degrees in Biblical and Pastoral studies, and in English Literature. They've lived in California, Texas, and, now, Tennessee. They love to travel and are thrilled to have been able to visit--and most often share their programs in--Mexico, Africa, Japan, Central America, and Europe.
Tim has participated in projects with SONY Pictures and ABC.
Amanda's devotional, Break Time, is available where books are sold. (http://www.christianartgifts.com/GB-HC-BreakTime-Devotional)
Learn more by visiting their website at TimandAmandaCowles.com
Thanks to Tim, Amanda, and Skadoodles!...recruiting Vacation Bible School volunteers is no longer a challenge...even the adults wanted more! Praise Jesus!!
Tim and Amanda Cowles are 1st class ministers and entertainers with a heart for God. Young and old alike at our church love their ministry. We have had them several years for our Kidfest events and they are always a crowd favorite! I highly recommend them!
We had a blast with Tim and Amanda. They did an outstanding job entertaining our boys and girls and their parents with their fun characters, illusions, and object lessons. Tim gave a clear gospel presentation during our Evangelistic service and I would highly recommend them. They are real sweet folks and so easy to work with you.
Everyone should book Skadoodles for their next family ministry program! Tim and Amanda present the Gospel in a creative and unique way. They always capture the attention of the entire audience, no matter the age, and give an incredible message. They are very professional and have a wide variety of ministry techniques that are used with excellence. This duo makes a lasting impression on their audience, and those who attend their program talk about it for weeks. I cannot wait for the next time we have Skadoodles at our church!
Skadoodles always goes way above and beyond our expectations! If you want a top-notch quality ministry team for your event with a solid Gospel message this is it! Tim and Amanda are not only some of the nicest and easiest people to work with but they also exhibit an amazing spirit that touches young and old in the audience. It takes really special gifts to be able to bridge the generation gap and not only minister to children but also to touch the hearts of the adults in the room. I've seen most all of the artists out there and as a Director of Children's Ministry at a church and also a director of numerous large yearly children's ministry events, I can say they are definitely among the best of the best and I highly recommend them!
Tim & Amanda Cowles have two of the most amazing hearts for children's ministry you will find. It has been said the your attitude will determine your altitude. With that being said this ministry team flies very high. Your ministry will be enriched, encouraged & truly blessed when this team comes to minister to your children. They are an absolute joy & pleasure to host & work with! I personally hold them in the highest regard.
We hosted Tim and Amanda for our annual summer Kid Jam. They were absolutely amazing. The kids were engaged the entire evening. They minister to kids in a variety of ways. All the kids were on the edge of their seats. Our kids still talk about Gigi and sheep baby to this day. Tim and Amanda definitely made a lasting impact on our kids. I would highly recommend Skadoodles to anyone.
If you are looking for the real deal, you have found it in Tim and Amanda. They both have a gift with their craft. And their heart for families is genuine and clearly woven in every aspect of their ministry. The families at my church are still talking about them ... They create memories for families. I highly recommend you schedule Skadoodles for your next event. You'll enjoy their ministry and you'll enjoy getting to know them.
Skadoodles has become an all-time favorite of our church family! We have been blessed by the ministry of Tim and Amanda Cowles for several years. Our children and their families are always mesmerized as they watch Tim, Amanda, Gigi, and other charming characters use a variety of illusions, puppet vignettes, object lessons, etc. to share the good news of Jesus. They are amazingly talented, entertaining, and inspiring. We cannot wait for them to share with us again!
Tim and Amanda Cowles are some of the best in kids and family ministry! I have had the opportunity to include them in a variety of venues and have seen them perform with excellence and quality! Their creativity provides a program that is funny and entertaining, while at the same time very meaningful with a strong message. The response of the children, adults, and families shows their ability to communicate effectively to all ages. They are a pleasure to work with and I wholeheartedly recommend them!
Timothy and Amanda Cowles are gifted performers with a beautiful ability to reach children of all ages! We have invited them to perform for our children's ministry for several years in row and have been so blessed by their captivating act and impacting messages that are woven through every bit of dialogue and demonstration on stage. The Cowles and I met on a professional relationship, but it has quickly blossomed into a lasting friendship for life. They operate their ministry through a high level of character and integrity which shines through their lives on-stage and off-stage. I highly recommend Tim and Amanda (and Gigi too!) for any service or event that is child-centered or family oriented!