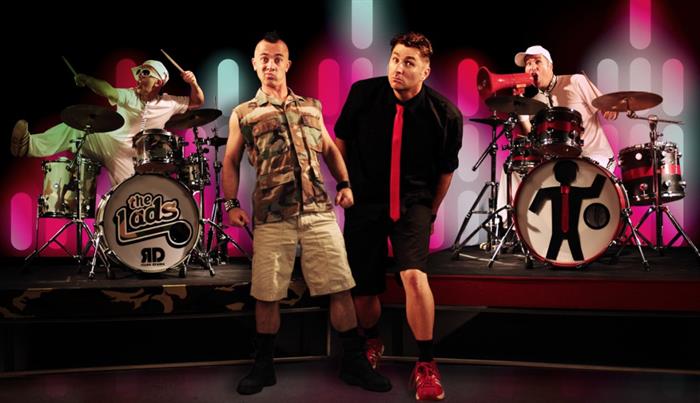 Q.  SO, WHO ARE THE LADS?
The Lads is a music ministry for kids and families. Our aim is to reach and teach this new generation about God using music, live concerts, videos, curriculum and even a TV show.
Q.  Y'AWL DON'T SOUND LIKE YOU'RE FROM 'ROUND HERE…
The ministry first began as an outreach to 'Teenagers' in New Zealand and Australia. For five years we toured high schools and youth events in small towns and big cities in both countries playing music and sharing the good news about Jesus.
Q.  WHEN AND WHY DID YOU START WORKING WITH KIDS AND FAMILIES?
In 2005 we relocated to Nashville, TN. Soon after we arrived we felt like God was directing us to change the focus of our ministry towards kids (esp. Pre-teens) and their families. Initially we were skeptical, we already loved what we were doing and weren't looking to change. But we followed God's leading (tentatively) and found ourselves leading worship at a Vacation Bible School in Houston, TX. We loved it!
In the years that have followed our passion to impact the next generation has only grown. We are continually adapting our methods but the core message remains the same: Jesus is the only way to life.
Q.  WHAT KINDS OF THINGS DO YOU DO?
We play lots of family concerts in churches, Summer Camps, Vacation Bible Schools and Sunday Worship Services. We know that we only spend a short time inputting into the lives of the kids we minister to, so our aim is to serve local churches and their vision for their youth.
Q.  HOW DOES SOMEONE CONTACT THE LADS IF THEY ARE INTERESTED IN HAVING THE LADS COME VISIT THEIR CHURCH OR EVENT?
We'd love to hear from you, simply click on 'Contact' tab bellow and we'll talk  
"These guys are awesome. Not only are they very talented musically, but they've got hearts of gold, they're very easy to work with – and we've worked with them on several projects. Specifically, they were here at our Summer spectacular event which is our VBS, and we had an outstanding time with them. They can lead worship, they can teach, they can do a lot of different things. Our kids love them. Here at Saddleback, we are big fans of the Lads!"
"I want to recommend to you The Lads. They are a great band and a great group of guys. I have had a chance to get to know them individually, and they have a real passion for ministry and a heart for others. If you can bring them into your church, you are not going to be disappointed."
"I just had The Lads Christmas show at my church. They did a great job of letting the kids really understand what Christmas is all about. I highly recommend these guys, and hope you will have them at your church too."
"The Lads lead worship at our Kidfest events this year and they have been absolutely awesome. I highly recommend them"
"I don't know if you saw, but Sammy got picked as the best dancer on stage by The Lads and won a CD. They all signed it for him. Last weekend he told all his friends about it in our neighborhood, and brought them to the house to show them the CD and had them listening to all the songs. Wow! They were all hearing songs about Jesus, and to Sammy, it was the most natural thing in the world."
"Hey Lads. I watch your show every Saturday. I am 12 yrs old, I live in the mountains of the Shenandoah Valley in the city of Broadway, Virginia. Do you think you'll ever come to our area? The closest larger city is Harrisonburg. It would be great to see you perform and to meet you all. Just let us know when and my Mom will cook you dinner! She makes lasagna and a really good triple layer chocolate cake with peanut butter icing and a chocolate glaze on top! Please write back as soon as you can.