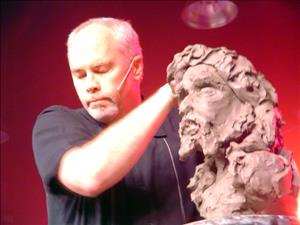 Richard Hight is an award-winning artist and teacher, as well as a much in demand motivational and inspirational speaker. Whether he's performing for an audience of 10 people or 50,000, whether he's sculpting 150 pounds of raw clay or working with pastel chalks on canvases, Richard's program leaves his audience absolutely spellbound from start to finish. He has used his artistic skills all around the world to visually communicate, entertain and inspire young and old alike, and has performed with such musical artists as Chris Tomlin, Steven Curtis Chapman, and the David Crowder Band.
The Passion of the ChristThe Bible
We were greatly touched by their gifts and spirit of love. VisualMpact Ministries deserves a huge round of applause!
Richard has an amazing gift to captivate the attention of people of all ages and draw them deeper into the presence of God. While I am in awe of his talents on stage as he draws, sculpts and preaches, but I am more inspired by his genuine love for Christ. I recommend him wholeheartedly and without any reservation.
Every congregation should experience this ministry. It's beyond description!
Our church is still excited over what we saw God do in that service!