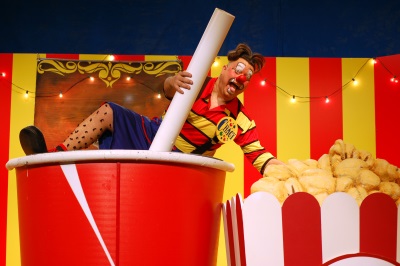 Chagy is being used by God in a tremendous way! The combination of his circus-style clown training and his theological education has given him the ability to effectively minister anywhere in the world, from the smallest church to the largest stadium. To date, he has visited 27 countries and counting!
Chagy clearly presents the Gospel in an unconventional manner in order to reach the unreachable. He brings both laughter and tears with his energetic, joyful delivery of the truth. His unique style of ministry captures the hearts of children, teens, and adults alike.
Don't expect a clown…don't expect a pastor. Expect something more. Expect to be moved. Expect to experience a vast range of emotions as Chagy challenges the privileged and encourages the disadvantaged. Expect to experience one of the most effective, high-energy and ministry-filled performances you have ever seen! Of course, you will get a world-class juggler, magician, mime, clown, hilarious entertainer and creative evangelist who can teach in both English and Spanish….but all of this talent is showcased in a meaningful way in order to guide the audience into an unforgettable, life-changing encounter with God.
Chagy is the most sought-after ministry clown in the country…..but he is more than just a clown; he is a person answering the call of God upon his life by sharing the gift of laughter. Dismiss any preconceived notions you may have about clowns, and be prepared to experience an entertaining and inspirational night unlike any other.
Powered by Froala Editor